Reserve Your Group Expedition Today!
K-12 School/Organization Expeditions (Wednesday – Friday March 23 – May 20)

We offer an exciting and flexible expedition package to meet your educational needs. Educational groups will enjoy a day full of laughter, learning and fun at the Jurassic Classroom hosted at Field Station: Dinosaurs. After booking your day, you'll arrive on your day scheduled and enjoy access to the Field Station from 10:00am – 2:00pm. Arrive on your own schedule and join in during our regularly scheduled shows, games and activities. Field Station staff will spend their day teaching students (and adults alike) about the age of the dinosaurs through a number of guided and self-guided activities:

Trail Access from 10:00am – 2:00pm
Self-guided Scavenger Hunt available
Over 40 animatronic, life-size dinosaurs
Field Station: Dinosaurs exclusive, original live shows, games and activities such as The T-Rex Feeding Frenzy, Great Moments of Discovery Theater, Field Station Challenge, Backyard Fossil Hunter, Buried Treasures: Kansas Underground and more all aligned with Next Generation Science Standards
Fossil Dig Site
Raptor Maze*
Paleo Playground featuring Jurassic Zoo Bouncer
Buried Treasures: Kansas Underground presented by Kansas Strong
Lunch space made available
Inquire about special educational objectives or activities
Requires group reservation ahead of time
Discount for Title 1 Schools
$9.00 per Student/Youth/Parent ($8.00 for Title 1)
Teachers/Paraprofessionals/Chaperones complimentary up to 10% of paid admissions
20 person minimum | 1 chaperone per 10 students required | $100 Non-refundable deposit required
Attendees who are not included in the group booking can be purchased at full price
See full Group Policies below
Summer Season Educational/Summer Camp/Family Reunion Expeditions (May 23 – August 7)
All day expeditions are completely self-guided
Include an introduction with an Expedition Guide to ensure you have a great experience
Access to all areas of the trails
Access to park during operating hours
Add Jurassic Golf to your Expedition for an additional $2/person
$10.00 per Student/Youth/Parent ($12.00 per student to include Jurassic Golf)
Teachers/Paraprofessionals/Chaperones complimentary up to 10% of paid admissions
12 person minimum
***Group must be reserved ahead of time***
Email ksgroups@fieldstationdinosaurs.com to reserve your group.

Corporate Events, Weddings, & Receptions
Field Station: Dinosaurs is the perfect place for your corporate event, wedding reception and/or actual wedding. For your event, we will open the entire park with over 44 animatronic dinosaurs and you can plan for Jurassic Golf as optional additions to your event. Gather your group in Base Camp for activities, whether it be an annual company update, slicing the wedding cake, or an exciting line dance. Roam the park at your leisure. The Field Station has an open catering policy and our vending partner, Shaken or Stirred, will supply beverages. Whatever your event, Field Station: Dinosaurs is ready to make it unique and special.
Cost: $1500 for first 300 attendees. $500 per additional 100 attendees.
Jurassic Golf: Included
Preferred Vendors: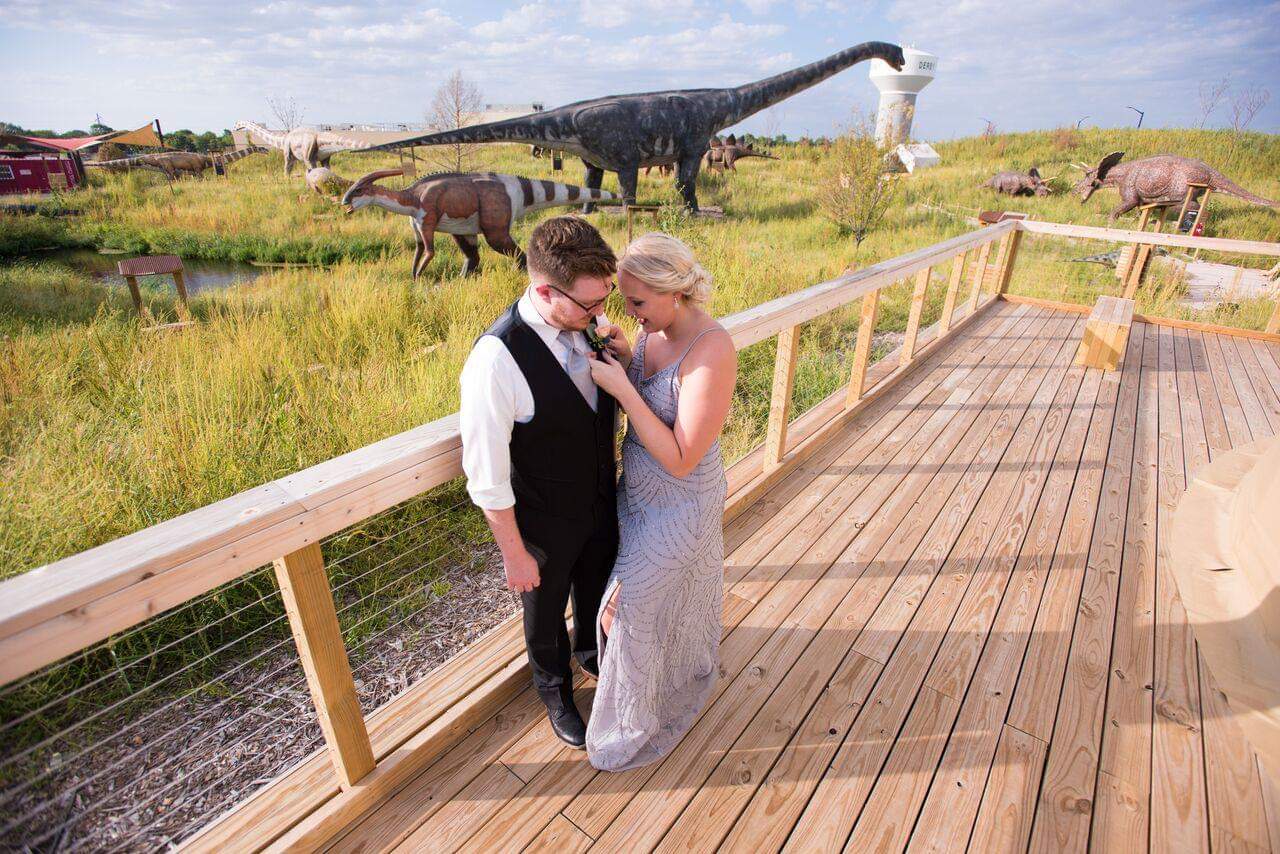 50% deposit required
Balance due upon arrival
Credit card held at event for additional charges
Access for set-up begins at three hours prior to event start time
Guest is responsible for removal of all decorations
Open catering policy
All alcoholic beverages must be served by a licensed provider
All vendors and guests must exit the park within one hour following conclusion of event
Group Policies
Group discounts are available for groups of 12 or more which book ahead of their visit. One chaperone required for every 10 children in the group. In order to avoid sales tax, proof of tax exemption is required (ex: ST-4 or 501(c)3 Letter). No tickets will be mailed.
PARKING
Parking is free at the Field Station.
On school group days, buses will unload students in a designated area near the entrance gates of the Field Station and students will be  greeted by Field Station staff. Buses will then be directed to park in the FSD parking lot.
PAYMENTS
Your group numbers may be adjusted up to 48 hours prior to your trip. The confirmed number at 48 hours is the expected minimum payment. Payment in full is preferred before your arrival, but must be paid before entry.
RAIN DATES
Field Station: Dinosaurs is open rain or shine. On rainy days, guests without appropriate rain gear will be provided with a free poncho and we will do our best to move activities to covered areas.
If you notify us that your principal or other school administration will not allow your group to visit the park because of the rain, we will attempt to reschedule your trip. Rescheduling is subject to space availability.
GIFT SHOP
Field Station: Dinosaurs has a gift shop that is open on general public days.
Park Contact
ksgroups@fieldstationdinosaurs.com
Field Station: Dinosaurs
2999 N. Rock Rd.
Derby, KS 67037
 LUNCH
On public days: If you are bringing your lunches, please note Field Station: Dinosaurs is not responsible for lost or stolen food. If you bring your lunch in your own cooler, it must be left in the designated area in the Base Camp located at the front of the Field Station.
Lunch activities will be in Field Station's Picnic Pavilion only. Lunches will not be allowed on the trails.
CHAPERONES
Students must be accompanied by a minimum of one adult for every ten (10) students.
Additional chaperones who arrive with the group will be charged the group rate upon entry and must join and remain with the group at all times.
For the safety of the children on school group days, chaperones who do not arrive with the group and who are not included in the group numbers, will not be permitted to enter the park.
CANCELLATIONS & REFUNDS
Please call Group Sales at 855.833.3466 at least 48 hours before your trip to notify us of a change in plans. Date changes are based on availability.
Field Station: Dinosaurs does not guarantee admission to school groups without a reservation.
On school group days, schools may be turned away if field trip dates are changed without prior approval.
Reserve Your Group Today!
Reserve your group event today by emailing ksgroups@fieldstationdinosaurs.com or calling 855.833.3466.