Events at Field Station: Dinosaurs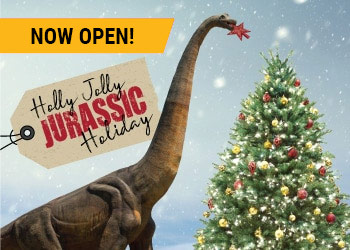 Holly Jolly Jurassic Holiday
November 16th-December 31st
Thursday through Sunday, 5pm-9pm
At Holly Jolly Jurassic Holiday, families will marvel at a one-of-a-kind exhibition with 44 life-sized Dinosaurs wrapping gifts, decorating trees, and kissing under the mistletoe! For six weeks only, the Field Station will become a sparkling mesozoic winter Wonderland where laughing, learning and holiday cheer go hand-in-hand.
A Family New Year's Eve
Monday, December 31
1pm-9pm
Forget Times Square! Join the fun as we ring in the New Year with a day long celebration of dinosaurs from around the world! We'll be popping the cork every time 2019 starts in another dinosaur's time zone. Meet cool dinosaurs from the far reaches of the globe and learn about them with games, activities and music. A great way for your entire family to ring in the New Year!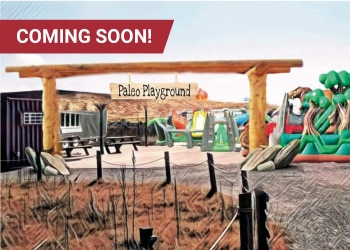 Paleo Playground
Bounce with Brontosaurus!
Tumble with T-Rex!
The Field Station's new Paleo Playground is the perfect place for young scientists to let off steam and literally bounce off the walls! Our obstacle course will bring out the Indiana Jones in every kid and the super, Dino slide will take our adventurers on the ride of their lives. It's the perfect place for families to hang-out, explore and have a blast!

Explore the 14-acre park, featuring over 40 moving and roaring life-size animatronic dinosaurs!
Discover the story and science of Dinosaurs with over 30 live shows, games and activities every day.
Laugh with our fearless dinosaur wranglers and come face to face with The Mighty T-Rex.
Journey around the world and score a hole-in-one at Jurassic Golf.
Sing-along with the Dinosaur Troubadour and paleontology's biggest hits.
Climb to new heights on North America's first challenge dome and take in a bird's eye view of the Dinosaurs.
Birthday Parties & Group Expeditions
Bring your group into a Paleozoic world of mystery, learning and unforgettable thrills!
Conquer The Kansas Climb
Coming 2019
North America's only challenge concept that combines a ropes course with a geodesic dome!
Get The Latest News, Invites & Offers By Email or Texted To Your Phone!
Field Station: Dinosaurs is…
A world-class family attraction that combines cutting-edge science with the creative minds of great artists to create a one-of-a-kind experience that's thrilling, educational and fun.
The Field Station is a wild scientific expedition just 10 minutes south of Wichita on Rock Road in Derby.  Over 40 life-sized, moving, realistic dinosaurs come to life thanks to the brilliant engineering of the world's leading roboticists and the imagination of our artists.
And at the center of it all is the fun, the joy and the wonder of dinosaurs. Our expedition takes every family on a shared adventure – full of mystery, surprise and a sense of awe.
Walk along our trail, check out our dinosaurs and participate in over 30 live shows, games and activities, which are all included in the Day Pass admission price.
Purchase your tickets today for the adventure of a lifetime
Hours
The park is open rain or shine. 
Holly Jolly Jurassic Holiday
November 16 - December 31
Thursday - Sunday
5pm - 9pm
(see Holiday extended hours)
2019 Season 
Come back and see us at our Spring Opening March 9!
Holidays
Closed Thanksgiving Day, Christmas Eve, & Christmas Day.