Field Station: Dinosaurs is…
A one-of-a-kind, prehistoric experience featuring over 40 life-sized, moving and realistic dinosaurs that's thrilling, educational and fun!
Minutes south of Wichita, your expedition includes:
– 10-acres of walking trails featuring dinosaurs from different eras
– Live shows, games and activities hosted by our expedition team – where you meet the Mighty T-Rex
– Fun at the Paleo Playground featuring yard games, Observation Tower and Jurassic Zoo Bouncer
– Learn about the Sunflower State at Kansas Underground: Buried Treasures
– Exploring the Raptor Maze
– A round of Jurassic Golf on our 18-hole miniature golf course
Currently, Field Station Dinosaurs is preparing for our 5th Anniversary Season – so check back often for updates.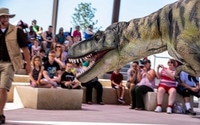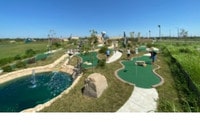 Get Ready For The Adventure of a Lifetime!