Shows at Field Station: Dinosaurs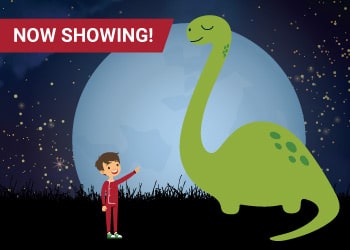 Bedtime at the Field Station
August-September 22nd,
Fridays & Saturdays: 6pm-8pm
Put on your PJs and bring along your blanky because it's Bedtime at Field Station: Dinosaurs! All your favorites, including the Spinosaurus and Velociraptor, will be yawning and rubbing their eyes as they wind down after dinner, fluff their pillows and prepare for bed. There will be storybooks to read, fossils to find and even the chance to brush the teeth of our Mighty T-Rex!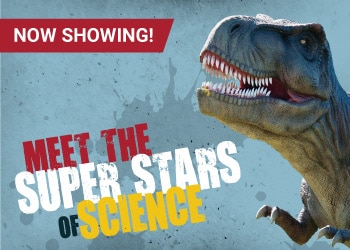 Superstars of Science
September 8th, 15th, 22nd, 29th
from 10am-6pm
Meet experts in the fields of Paleontology, Geology, Puppetry and more during this month-long series of special guests at the Field Station. Each Saturday in September we'll feature a different Superstar of Science, starting with "Dino Don" Lessem. A scientific adviser to Jurassic Park, Dinosaurs, and Disney's Animal Kingdom, Don kicks off our Superstars of Science series September 8!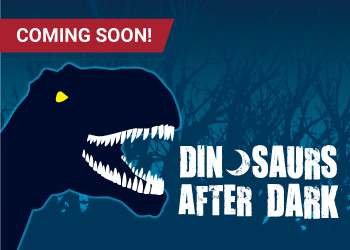 Dinosaurs After Dark
September 28th-October 27th,
Fridays & Saturdays: Starts at 7pm
Dinosaurs After Dark is a fun, mysterious expedition into a shadowy, prehistoric world. But things get a little scary when the lights go out. That's when it's discovered there's a vicious T-Rex on the loose! Fearless Dinosaur Wranglers will lead a Tyrannosaurus Hunt along the Field Station's darkened trails with a stop at every dinosaur and a few surprises along the way.

Explore the 14-acre park, featuring over 40 moving and roaring life-size animatronic dinosaurs!
Discover the story and science of Dinosaurs with over 30 live shows, games, and activities every day.
Laugh with our fearless dinosaur wranglers and come face to face with The Mighty T-Rex.
Journey around the world and score a hole-in-one at Jurassic Golf.
Sing-along with the Dinosaur Troubadour and paleontology's biggest hits.
Climb to new heights on North America's first challenge dome and take in a bird's eye view of the Dinosaurs.
Birthday Parties & Group Expeditions
Bring your group into a Paleozoic world of mystery, learning and unforgettable thrills!
Conquer the Challenge Dome
North America's only challenge concept that combines a ropes course with a geodesic dome!
Get The Latest News, Invites & Offers Texted To Your Phone!
Field Station: Dinosaurs is…
A world-class family attraction that combines cutting-edge science with the creative minds of great artists to create a one-of-a-kind experience that's thrilling, educational and fun.
The Field Station is a wild scientific expedition just 10 minutes south of Wichita on Rock Road in Derby.  Over 40 life-sized, moving, realistic dinosaurs come to life thanks to the brilliant engineering of the world's leading roboticists and the imagination of our artists.
And at the center of it all is the fun, the joy and the wonder of dinosaurs. Our expedition takes every family on a shared adventure – full of mystery, surprise and a sense of awe.
Walk along our trail, check out our dinosaurs and participate in over 30 live shows, games and activities, which are all included in the Day Pass admission price.
Purchase your tickets today for the adventure of a lifetime
Hours
The park is open rain or shine. 
Fall Season
August 13 - September 22
Saturdays & Sundays only from 10am-6pm
September 29 - November 25
Saturdays & Sundays only from 10am-5pm
Evening Hours
August 17 - September 22
Fridays & Saturdays 6pm-8pm
Summer Season
Ended Sunday, August 12 - Come back and see us again next summer!
Holidays
Open Independence Day (July 4) and Labor Day (Sept. 3)