Dinosaurs Just Got Scarier Join us on Fridays and Saturdays in October at
Dinosaurs After Dark
***We anticipate to sell out our two remaining event nights 10/25 and 10/26. We highly encourage you to make a reservation by calling 855.833.3466 and telling us the number of adults and children you plan to bring. If reservations reach our capacity, walk up purchasers may be asked to standby until 6:55 before being allowed to purchase their tickets. We can not guarantee admittance to the event for any walk up ticket purchases. No ticket sales will be made after 7:20 for each night, including reservations.***
 The Field Station's newest show is a fun, mysterious expedition into a shadowy, prehistoric world. But things get a little scary when the lights go out. That's when it's discovered there's a vicious T-Rex on the loose! Fearless Dinosaur Wranglers will lead a Tyrannosaurus Hunt along the Field Station's darkened trails with a stop at every dinosaur and a few surprises along the way.
Starting promptly at 7:00pm on Fridays and Saturdays, guests can enjoy Dinosaurs After Dark, which returns with two new live shows including "Cretaceous Costume Party," where Dinosaurs meet mummies, vampires and skeletons! Guests will do three different activities, all while being led by an expedition guide: Test your skill at the Mesozoic Midway, learn more about the mind and science of the apex predator – the T. rex, and explore the trails to see all of the dinosaurs under cover of darkness – while watching out for the hungry T-Rex that is on the loose! It's a spooky, fun-filled night of songs, shows, games and marshmallows around the campfire.
FAQS
If I purchased a Day Pass earlier in the day, do I have to purchase a Dinosaurs After Dark ticket?
Yes. Dinosaurs After Dark is a separate, premium event and requires an additional ticket purchase. Ticket sales are done at the door each night of the event and is not available online.
Why do ticket sales end at 7:20?
We must stop ticket sales at 7:20 because that is the approximate time that the first event ends. In order to ensure guests get maximum value of the event, we will not sell tickets after 7:20. Also, this event is held in the dark and is not a self-led event.
Why does it start promptly at 7:00?
In order to keep the time of the entire event from going too late, we must start as close to 7:00 as possible. Beginning at 7:00, guests are split into different groups and will do activities for approximately 60 minutes, switching every 20 minutes. Next, guests will go to the Amphitheater for a show that lasts approximately 20 minutes. Finally, all guests are invited to Basecamp for campfire marshmallows and hot chocolate. This will take approximately 2 hours and 30 minutes, so we ask that guests arrive at 6:45 for a prompt 7:00 start.
Do we need to bring our own flashlights since this event takes place at night?
No, Field Station: Dinosaurs will provide a flashlight to all guests. The trails will also have lanterns lining the path. However, if you'd like to bring your own you are welcome to.
Is this event scary? Can I bring my young children?
Our goal is to make this a "spooky, not scary" event for younger children. There is one moment that could be scarier for younger children, but it is not over the top. This event is fun for the entire family to enjoy!
Do I have to reserve my tickets?
No. Since the price for children is "Pay Your Age" all tickets will be purchased at the door. You do not have to reserve tickets, but since we do limit the event to 120/night you can reserve your place in line by calling 855.833.3466.
Why is the event limited to 120 people each night?
The event is limited each night in order to keep the time to approximately 2 hours and 30 minutes. Also, our maximum effective group size is 40 individuals. Please call ahead to reserve your tickets and you will be placed in line to purchase your tickets at the door. If we reach capacity, guests can wait for any reserved tickets that are not redeemed. If tickets are reserved you must check in by 6:55 or those tickets will be given to any guests who are in line waiting for tickets to become available.
Oct. 4th thru Oct. 26th
Fridays & Saturdays
Begins promptly at 7:00
Please arrive before 6:45
Ticket sales end each night at 7:20
Limited to 120/night
Prices
Pay Your Age! (plus tax; ages 2 – 14)
$15 (plus tax; age 15+)
$12 (plus tax; age 12+ Members Only)

Ticket Sales End Each Night at 7:20
Purchase Tickets at Box Office
Call 855.833.3466 to reserve. No reservation required, but if maximum capacity is reached in reservations, you may be asked to wait until 6:55 before being able to purchase tickets.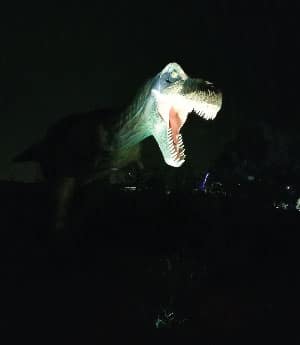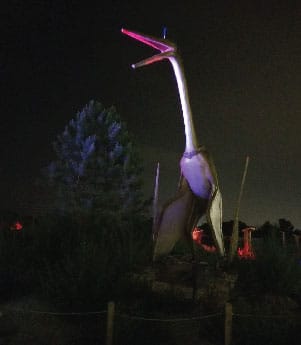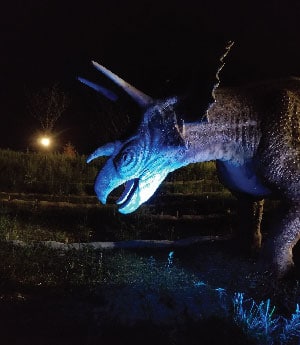 The Dinosaur Safari
There's a T-Rex on the loose and the Field Station staff needs help! Families get a spooky tour of the park as they track down a missing Dinosaur. There are plenty of clues – and laughs! – along the way but look out, that might be a hungry T-Rex lurking in the shadows.
The T-Rex Profiler
To catch a T-Rex you have to think like a T-Rex! The Field Station's resident Profiler takes you into the mind of a vicious meat eater. Families experience the world like a T-Rex would in this funny exploration of our five senses with lots of audience participation and hands-on fun.
Mesozoic Midway
Hosted by the Field Station's Director of Safety and Security, the Midway is basic training for all intrepid dinosaur hunters. Learn from the greatest self-defense teachers of all time – Triceratops, Ankylosaurus and Dilophosaurus! And, of course, it wouldn't be a midway without prizes. Step right up and win yourself a dinosaur!
Cretaceous Costume Party
Dinosaurs meet Halloween! What could be cooler? Mummies, vampires and skeletons shake it up and boogie down in this hilarious musical show. Paleontologists use the scientific method to determine the scariest monster of all-time and enlist a baby Parasaurolophus to help judge! Brave volunteers from the audience take turns being scary but can they outdo the Mighty T-Rex?
Reserve Your Adventure Today!