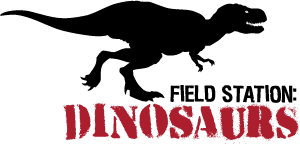 Have questions about Field Station: Dinosaurs? Check out our FAQs below, or give us a call at (855)-999-9010.
What is included with the "Day Pass" ticket?
This ticket entitles you to one (1) DAY PASS for all day entry to the park during the 2018 Season.
The Day Pass includes the dinosaur lined trails, live shows, games and activities. All guests receive a Trail Map upon entry to the park which lists all show times. Plan your visit in advance to maximize your experience.
Present your e-Ticket at BaseCamp where you will be given Field Station credentials. You do not need to stop at the box office upon entry to the park.
Park hours vary. Be sure to visit our website for a complete listing of hours of operation. kansasdinos.com. THE PARK IS CLOSED ON MONDAYS EXCEPT FOR MEMORIAL DAY AND LABOR DAY. FSD is not responsible for guests who travel to the park on days the park is not open. All sales are final.
This ticket does not include admission to the Paleontologists' Laboratory, the Ropes Course, Mini Golf or Dinosaurs After Dark. Ticket expires November 11, 2018.
What does the "Paleontologist' Laboratory (Fossil Dig) add-on" get me?
This ticket entitles you to one (1) visit to the Paleontologists' Laboratory during the 2018 Season. A Day Pass or Explorer's Pass admission ticket must be purchased to enter the park and to redeem this ticket.
Space is limited in the Laboratory and guests are served on a first come first served basis. One non-paying adult per child may enter the Laboratory. Children under 1 not permitted in the Laboratory.
Can I purchase passes at the park?
Yes, tickets can be purchased at the box office at the park during regular business hours.
Do you have a family pass?
No, but children under two get in free.
Can someone else use my pass?
No. Field Station: Dinosaurs passes are non-transferable.
Does my child need a ticket also?
Yes. If over the age of 2.
Where can I purchase a Discoverer's Pass?
Discoverer's Passes were only available for a limited time and have sold out. Season Passes are still available!
At what age will an adult pass be needed?
Ages 12+ will need an adult pass.
What is included in a Season Pass?
With a Season Pass, enjoy unlimited daytime admission to the Field Station, special discounts and events throughout the season, and discounts on birthday parties. You can upgrade any pass to a Season Pass at the end of your visit to the Field Station. With our jam-packed event schedule, a Season Pass is the best way to experience the Field Station.
Each season pass entitles members to:
-Unlimited daytime access to the Field Station
-20% Discount to the Paleontologists' Laboratory, a hands on science activity
-20% Discount on Jurassic Golf
-10% Discount on North America's only Challenge Dome
-10% Discount at Tricera-Shops, our gift shop for dinosaur lovers
-10% Discount at the Field Station Concession Stand
– Discounts on Dinosaurs After Dark and Birthday Parties
– Access to the air-conditioned VIP Lounge
– Advance notice on special events
When does the park open?
May 26th at 10:00 am.
Where is Field Station Dinosaurs?
What is the park's phone number?
855.999.9010
What are the park's hours?
The park is open rain or
shine
and closed on Mondays unless noted.
Summer Season
May 26 – Sept. 14
Tuesdays through Sundays from 10am to 6pm.
Holidays
Open Independence Day (July 4) and Labor Day (Sept. 3).
Fall Season
Sept. 15 – Nov. 25
Saturdays and Sundays only from 10am to 5pm.
Is the park open all year long?
The last day to attend Field Station: Dinosaurs during the 2018 season is November 25.
Does the park close if it rains?
The park is open rain or shine.
Can we bring party decorations into the park?
The birthday tent is lightly decorated but we welcome additional decorations that can be set up and taken down in 15 minutes or less.
Can I bring my own cake?
We allow cakes to be brought in for the Fossil Fete package only. We do not have a refrigerator or freezer to store cakes, therefore cakes that require these sort of climate control necessities are not recommended. Your party will still get cupcakes that are included in the package. You must provide your own cake plates and utensils.
Can I bring my own food?
Food may be brought in only if you have the Fossil Fete package. We do not permit food to be delivered to the park. Food must be walked in at the beginning of the party.
Can we bring coolers into the party?
No.
Some of my party guests have severe allergies, may I bring my own cake/food?
Only under the most extreme cases can this be considered. Requests will be brought to management and evaluated on a case by case basis in advance.
What is the party favor?
The party favor is a dinosaur plush toy. You are welcome to bring additional favor items for your guests.
Does Field Station: Dinosaurs provide paper plates, napkins and cutlery?
We do not provide these items. Feel free to bring fun themed plates, napkins and cutlery. If you have the Fossil Fete package these items are provided by the concession stand, i.e. hot dog comes in a hot dog basket.
What is the maximum amount of people I can have at a party?
Being a 22 acre park, we do not have a limit.
If I do not purchase a party package but only purchase admission tickets, may I bring in my own cake?
No. Without a birthday reservation through Field Station: Dinosaurs we do not permit cakes, party decorations, food, etc. to be brought to the park. If you do not purchase the Fossil Fete birthday package, you may not bring cupcakes or cakes into the park.