Spend a Day With the Dinosaurs
Holly Jolly Jurassic Holiday (2 and older) $12.00
Adults (12 and older) $16.75 (Includes Trail Access & Jurassic Golf)
Children 2-11 $13.75 (Includes Trail Access & Jurassic Golf)
Children 1 AND UNDER FREE
Jurassic Golf Only: $7.00/person
Day Passes Include:
Trail Pass – Your expedition begins with 10 acres of trails featuring 40+ moving and roaring true-to-size animatronic dinosaurs
Jurassic Golf – Each guest can enjoy a round of mini golf at the only dinosaur-themed 18 holes of mini-golf
Live shows, games and activities presented by our performers*
The Raptor Maze
Fossil Dig Site
Paleo Playground w/ Jurassic Bouncers

Buried Treasures: Kansas Underground Exhibit
*Live shows vary day-by-day due and are subject to change due to unforeseen circumstances
Subject to Change Due Weather Conditions & More
Ticket & Golf Sales End 30 minutes Before Close
Trails
Nov 24 – Dec 17
Friday – Sunday | 4:00pm – 9:00pm
Dec 20 – 23
Everday | 4:00pm – 9:00pm
Dec 26 – 31
Everday | 1:00pm – 9:00pm
Jurassic Golf
Nov 24 – Dec 17
Friday – Sunday | 4:00pm – 9:00pm
Dec 20 – 23
Everyday | 4:00pm – 9:00pm
Dec 26 – 31
Everyday | 1:00pm – 9:00pm
Holidays
Open Memorial Day (May 29th) & Labor Day (Sep 4th)
Closed Easter Sunday, Independence Day, Thanksgiving Day, Christmas Eve, & Christmas Day
Teaching Families About the World of Today Using the Story and Science of Dinosaurs
A working, scientific expedition!
Welcome to the Field Station! Much like fossil sites during the Bone Wars, visitors come from all around to see what dinosaurs have been recently uncovered. All we need now is an Expedition Team…
The children who visit the Field Station take on the role of a visiting scientist – ready to explore, ask questions and make discoveries! Amongst the native grasses and natural environment is a working, scientific expedition – and every scientist needs their Credentials. During their visit, children earn stamps in their Credentials for participating in our live shows performed by our expedition team, playing in games that take place during the day, and completing activities along the trail. Once a child receives 6 stamps, they are sure to be a Super Paleontologist and we'll name them an official member of the Field Station!
Families who are active in completing their Credentials get the most value visiting the Field Station.
*Credentials are not provided during special events – such as Spring Break Sneak Peek, T-Rex Takeover, Dinosaurs After Dark, Holly Jolly Jurassic Holiday, etc; Credentials may not be provided weekdays of the Spring & Fall seasons or during group field trips
Complete your child's credentials to become a Super Paleontologist!
In partnership with Elevation Science Institute – and active paleontologists around the country – the Field Station trail features a collection of true-to-size dinosaurs and prehistoric creatures from a variety of backgrounds.  While certain traveling exhibits send you on a quest with "life size" dinosaurs, often these are inaccurate to fit within size constraints.
With careful consideration of our location in the "Birthplace of Modern Paleontology", our true-to-size dinosaurs include fan favorites – such as the T. rex, Triceratops, or Stegosaurus – and creatures which called the Great Plains home during the time of dinosaurs. Each towering dinosaur was brought to life through brilliant engineering and the creative imagination of numerous artists – both local and abroad.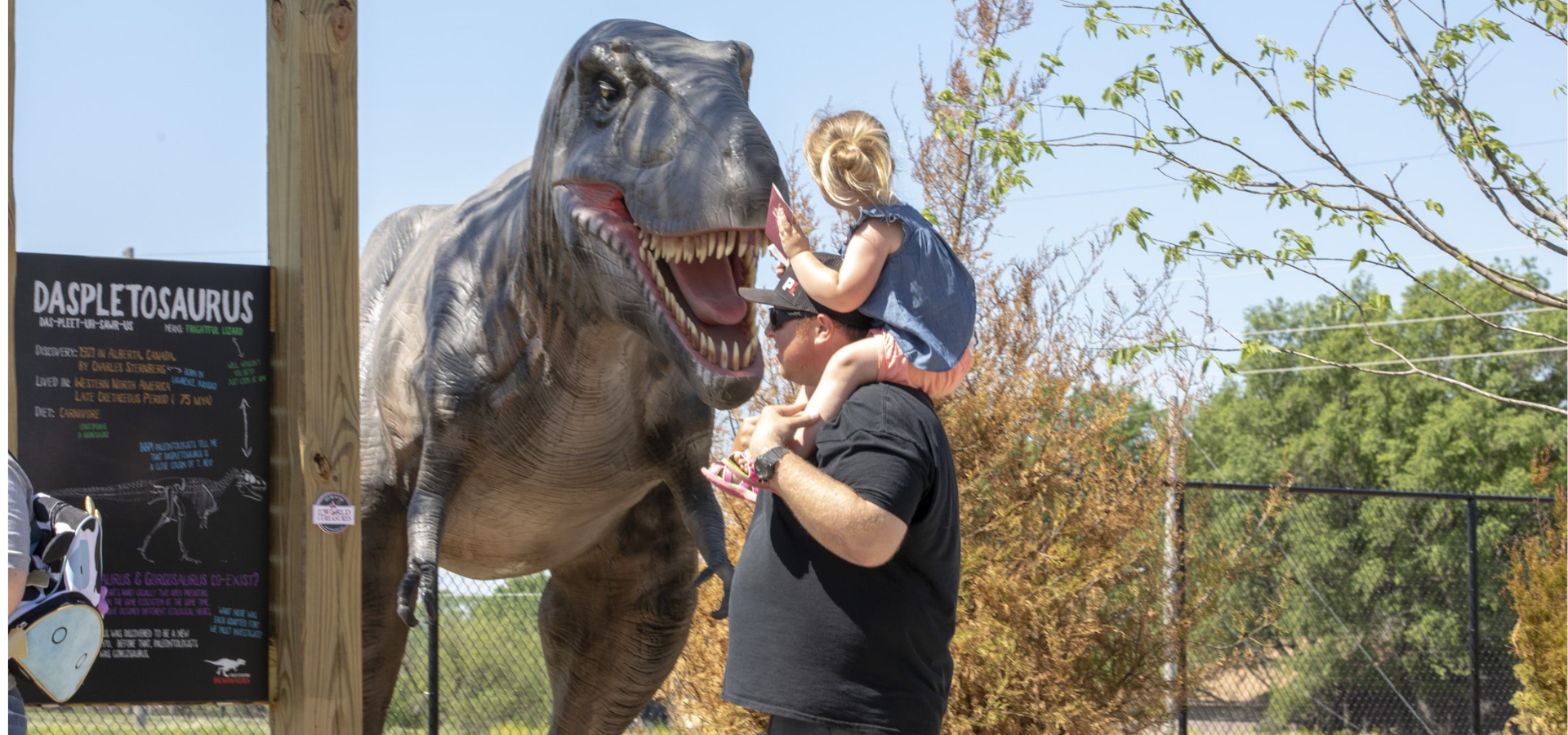 Field Notes feature details, pronunciations, fossil sketches, and up-to-date facts.
Original live shows, games, and activities bring the history of dinosaurs to life for families in an adventurous way – leaving a sense of mystery, surprise and awe. The Expedition Team performs live content – ranging from 8 to 20 minutes long – all day long. You'll be introduced to scientific theories and discussions through experiments with puppets, fun-focused competition, crowd participation, and even original, live songs.
The key to a successful expedition is your Trail Map and Expedition Schedule – which describes these crowd favorite shows, games and activities. The number of scheduled performances and the selection of shows varies each day.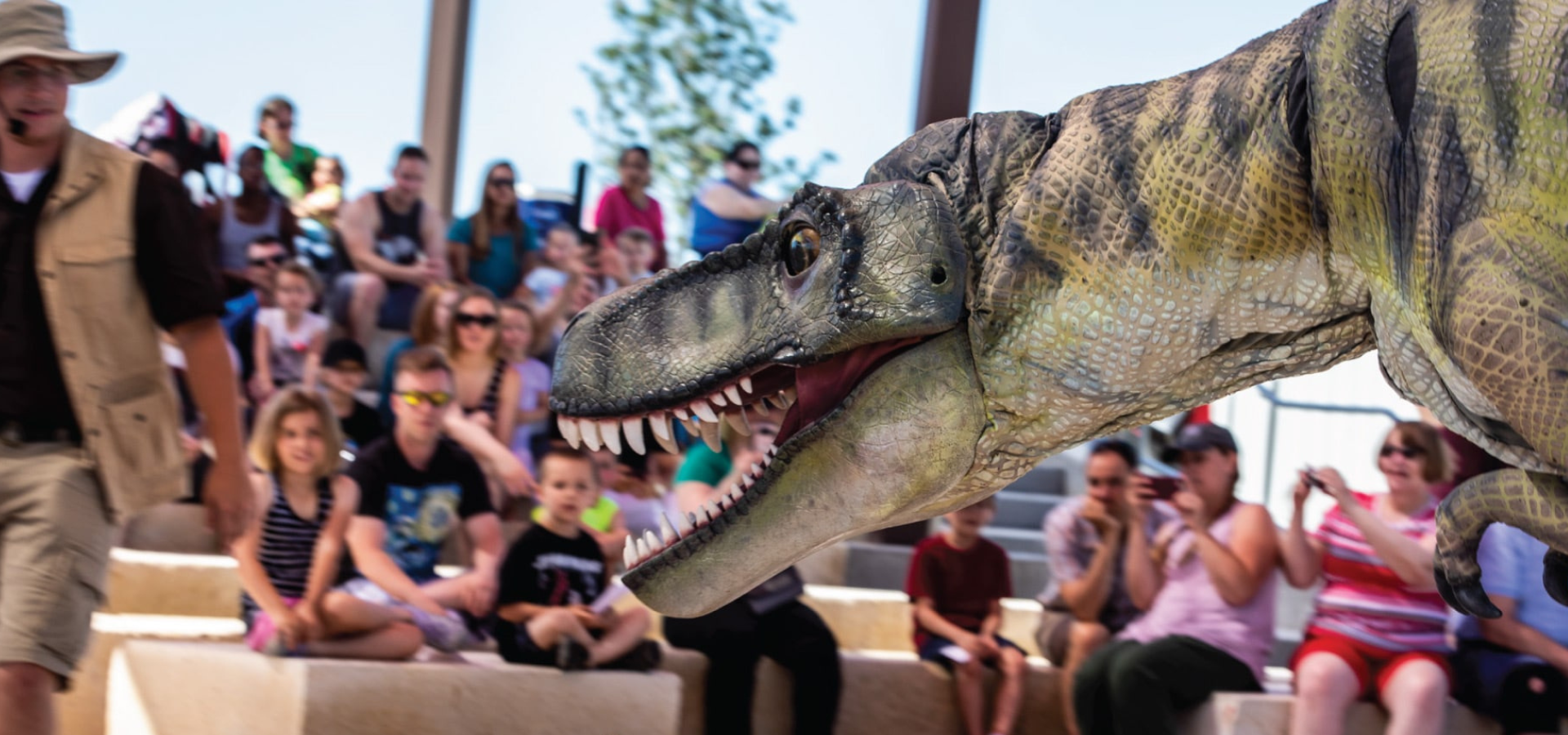 Field Station: Dinosaurs features original content – written to entertain and educate a wide age range.
Among the tall grass, families of all ages and abilities explore the winding, puzzling paths from start to finish – seeking out the three true-to-size velociraptors hidden within the walls. This activity is located in the Quarry beside the Utahraptor.
Located in the Family Camp is this hands-on experience during your expedition. Children will use tools to uncover maiasaura and triceratops fossils in the dig site and also find (and keep!) authentic aquatic fossils from a prehistoric Kansas.
While the adults take some time to rest at the Dino-Bites concessions stand, children can climb to taller views from the Observation Tower, play yard games, put together 3-D dinosaur fossil puzzles, and bounce off the walls of three dinosaur-themed bouncers.

Take some time to cool off in our own Paleo Art Gallery! This indoor exhibit features 14 original paintings designed by the paleo artist Christopher DiPiazza – including a 15 foot Tylosaurus mural.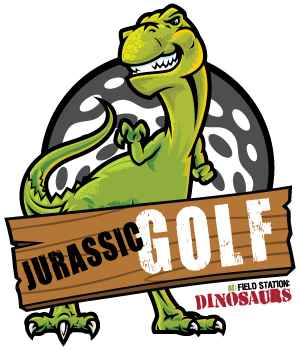 Eighteen scenic holes of miniature golf perfect for the entire family! Dinosaur fossils line the path as players putt for par and learn about the steps to dinosaur discovery along the way.
Jurassic Golf is included in your Day Pass or can be purchased as a stand alone experience.
Forget those dingy bowling alleys and concrete "family entertainment centers." Toss away those cardboard party hats and worthless skeeball tickets. At Field Station: Dinosaurs we're saying goodbye to boring, uninspired birthday parties and inviting your child into an outdoor Paleozoic world of mystery, learning and unforgettable thrills!
Enjoy access to the Field Station trails as early as 10:00am for a day full of laughter, learning and fun! Your group will join in during our regularly scheduled, all-original live shows, games and activities featuring our Field Station performers. Many of the live performances also meet Students and adults alike will walk away with new knowledge about the prehistoric age.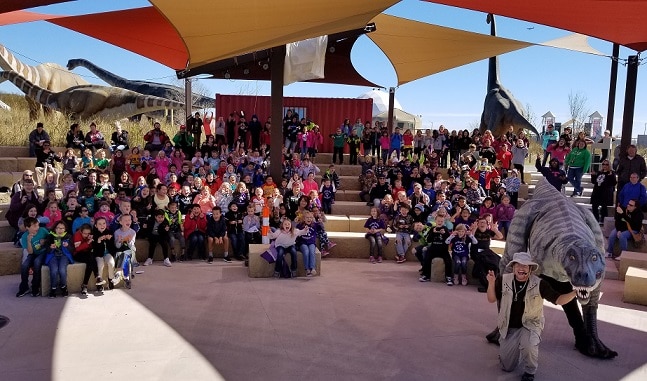 Frequently Asked Questions
Is it all outdoors? The majority of the Field Station: Dinosaurs experience takes place outside. However, there is one indoor exhibit located in the Foothills near our Triceratops dionsaurs with HVAC. There are covered areas found along the trail.
What if there is rain/storms/etc.? The Field Station trails are normally open rain or shine. However, our management team reserves the right to close the Field Station if we feel that the weather will create a negative experience for our guests/staff or there is an increased potential for danger. For example, if there is extreme heat or cold our team could determine it too unsafe to operate. Please plan accordingly when making plans to visit our attraction. Check our social media channels and website for announcements regarding inclement weather.
How can I purchase tickets? Tickets can be purchased at the door or online.
Do we have to reserve a certain date or time? You do not have to reserve a certain date or time to visit.
Does everyone need a Day Pass? Yes. You will be required to purchase Day Pass for everyone age 2+. Children age 1 and under are provided FREE admission.
Is Jurassic Golf included with your Day Pass? Yes. A round of Jurassic Golf is included with the purchase of a Day Pass.

Is there food and drink available for purchase? Yes. The Dino-Bites concessions stand sells some smaller hot food items (hot dogs, nachos), drinks, prepackaged snacks and dinosaur themed candy.

Do I have to pay extra for the live shows, games and activities? No. Your Day Pass provides access to all of the activities that take place at the Field Station – including Jurassic Golf. All activities are subject to change due to weather or unforeseen circumstances.
Can you provide me with a schedule of the live shows, games and activities? No. Unfortunately, our schedule requires a lot of flexibility based on numerous factors – staffing, weather, technical problems, audience, and more. This means that our Expedition Schedule can change day-to-day. You'll receive an Expedition Schedule upon arrival with the anticipated schedule of activities.
The Wackiest Winter Wonderland is Back!