The Dinosaur Revels! Kansas's Most Unique Holiday Light Display!
After 65 million years without a Christmas, the dinosaurs are ready to celebrate!
Experience the Field Station's scenic trails in a whole new way – with a quarter mile of Christmas lights, festive and funny decorations, and the world's must unexpected holiday guests – the dinosaurs! Laugh and join in the spirit of the season with T-Rex, Spinosaurus and all your prehistoric favorites as they haul out the ivy, hang up their stockings and jingle all the way in preparation for the holliest, jolliest Jurassic holiday ever!
Featuring 10 acres of Christmas lights and holiday themed activities, this one-of-a-kind event is perfect for the entire family.
Hours
1pm – 9pm (Through January 3rd)
Closed Christmas Eve, Christmas Day and New Year's Day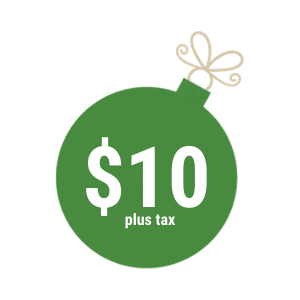 Included with Membership! Members can purchase additional tickets with a 10% discount at the box office.
Box Office Sales End 8:30pm Nightly
Sledding on Alamosaurus Hill

There may not be snow but there's always sledding at Field Station: Dinosaurs!
Field Station: Dinosaurs has created the Wichita area's wackiest kid-sized luge run just in time for the holidays. Dinosaur lights and hay bales line the trail as future Olympians race down our bunny hill on an all-season sled.  Guaranteed winter fun!
No Santa in the mall this year? Come and meet the Santasaurus Rex instead! Bring your camera and get a great, unexpected photo that's great for every dino lover's Christmas card.
A fun-filled ride for our smallest paleontologists. You can't spell Triceratops without ICE!
 Frequently Asked Questions
What is the cost of this event? This event costs $10 for all guests ages 2 and up! It is free for guests under the age of 2 and for current members.Your Holly Jolly Jurassic Holiday ticket includes admission during the day and at night to see the lights.
How can I purchase tickets for this event? Tickets can be purchased at the door or online.

Is this event included with my membership? Yes! Active members receive free admission to this event and will receive discounts on additional tickets. All you need to do is bring your membership card with you.
If I purchased Day Passes this season can I use them for this event? Guests who have unused Day Passes for the 2020 season will be able to use them for any of our Holly Jolly Jurassic Holiday dates. Tickets for the Kansas Climb or Jurassic Golf will NOT grant you admission.
Is Jurassic Golf and the Kansas Climb included? No. The Kansas Climb and Jurassic Golf are closed during the winter due to unpredictable weather. Keep an eye out online for when these will be available for guests again.
Is there food and drink available for purchase? Yes. We will have hot drinks, candy and other snacks available for purchase.

Will Santa be at Holly Jolly Jurassic Holiday? No. We will not have Santa at this event. There will be unique photo opportunities throughout, including a photo with the Santa-Saurus Rex!

Is this event indoors? No, this event is outdoors, so please be sure to bundle up! However, there are covered spaces that are heated including the Kansas Underground: Buried Treasures exhibit and the Family Tent (Concessions).
What if there is bad weather? This event takes place outdoors, so we will keep an eye out for weather which might be dangerous or which creates a negative experience. Check Field Station: Dinosaurs' social media channels and website for announcements regarding inclement weather. We will do our best to stay open and will usually make an announcement about closure by 11:00 am.

Are there activities for this event? There will be holiday themed activities for this event including sledding, a "Santa" photo with the Might T-Rex, Triceratops Rides, Snowman Cornhole Game and photo opportunities. There is a low-cost activity available for purchase – a dinosaur-shaped, scratch off ornament. All activities are subject to change due to weather or unforeseen circumstances.