Spring Break Sneak Peek
Warm weather has arrived, the dinosaurs are shaking the snow off of their tails and The Mighty T-Rex takes his place on stage! It's part of Sneak Peek Week at Field Station: Dinosaurs – a living highlight reel of all the fun and adventure coming this spring and summer to the Wichita area's most unique family attraction. Sneak Peek Week opens Saturday March 20, and runs 10am-5pm every day through Sunday March 28.
All tickets to Sneak Peek Week are $12 and include the dinosaur trail, live shows, games, hands-on science activities and Jurassic Golf. After you finish your visit, use your Sneak Peek Week ticket purchase toward a Family membership for a full year of fun, science and more!
March 20th thru 28th
10:00am – 5:00pm
Jurassic Golf
10:00am – 9:00pm
$12 all ages 2 and up!
Purchase Tickets at Box Office or online Fantabulous Fossil Finds!
(and Other Adventures in Dinosaur Digging)
A brand new mini-musical comedy takes the stage featuring your favorite characters – The Mighty T-Rex, the Dinosaur Wrangler, the Dinosaur Handler and more!
Family Favorites
Participate in some of our activities intended for the whole family! Meet the baby Hadrosaurus, star of the Dinosaur Daycare. Learn some of our most popular dinosaur dance moves, including a Jurassic Jig. And play a family classic – Limbo!!
Paleo Playground
Featuring yard games for the whole family, an Observation Tower and located next to our Dino Bites concessions stand. Children will have the time of their lives as they literally bounce off the walls in our inflatable Jurassic Zoo bouncer!
Buried Treasures: Kansas Undergound
Presented by Kansas Strong
This one-of-a-kind exhibit features treasures from the Sunflower state – both prehistoric and modern. Learn about rocks, minerals, human artifacts, dinosaur fossils, gas, oil and more. This hands-on exhibit has something for all ages!
Jurassic Golf
Eighteen scenic holes of miniature golf perfect for the entire family! Dinosaur fossils line the path as players putt for par and learn about the history of dinosaur discovery along the way!
FAQS
Can I use my membership for this event?
Yes! Spring Break Sneak Peek is included with your memberships.
Can I upgrade my ticket purchases to a Family Membership?
Absolutely! If you decide to upgrade to our Family Membership on the day you visit we will use your ticket purchase price towards our Family Membership price. You can only use four ticket purchases towards the purchase of the Family Membership (which includes an annual membership for four people).
Will the Kansas Climb and Jurassic Golf be open?
Jurassic Golf will be open the same hours as the trails during Spring Break Sneak Peek. The Kansas Climb will NOT be open during Spring Break Sneak Peek.
What if it gets cold, rainy, etc.?
The field station is open rain (or snow) or shine! We will only close if the weather becomes dangerous for our guests or staff. Our staff does their best to make that determination before we open for the day. Keep an eye out on our Facebook page and here on the website for posts about any weather events.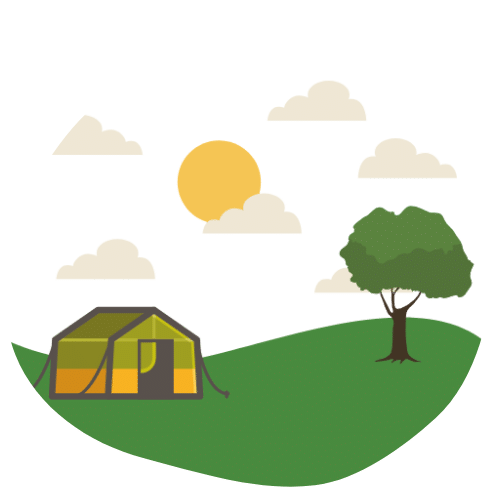 Derby is the New San Diego. We guarantee it!
At Field Station: Dinosaurs the weather is always perfect for a day of science and adventure. In fact, we're the only outdoor attraction in the country that guarantees beautiful weather... and we put our money where our mouth is! If your family comes to Field Station: Dinosaurs and the temperature is cooler than 40 degrees or hotter than 95 you get 20% off the regular admission price.*
*Offer valid at box office only during Spring, Summer and Fall regular season hours. Not eligible for use with Dinosaurs After Dark and Holly Jolly Jurassic Holiday. Can not be used with additional discounts. Discount based on temperature at time of purchase.

Reserve Your Adventure Today!