Upcoming Events
Events Search and Views Navigation
June 2019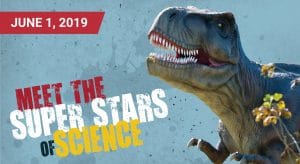 You've heard about the Tyrant Lizard King before, but what was the King like in his childhood years? Join Kansas University Professor and paleontologist Dr. David Burnham as he discusses the juvenile T. rex including a recent, rare discovery that may change what we know about how a young T. rex lived and hunted.
Find out more »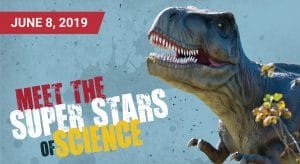 Jason is the Founding Executive Director of the Bighorn Basin Paleontological Institute. He also serves as a researcher and educator within the organization. A writer, naturalist, explorer, educator and a paleontologist, Jason shares his deep love and fascination with nature - both past and present - with others. Join us on the trails as our resident paleontologist teaches all about the creatures at Field Station!
Find out more »
Known for being the "Dinosaur Whisperer", Dustin Growick is the Team Lead for Science at Museum Hack and the host of the YouTube series: The Dinosaur Show. Come join us for an interactive round of family-friendly dinosaur trivia and fun photo challenges! Lend your hand in our collaboration to make paleo art and you could even walk away with some great dino prizes!
Find out more »
+ Export Events
Purchase your tickets today for the adventure of a lifetime