Travel 90 Million Years Back in Time!
About Us
Field Station: Dinosaurs is a world-class family attraction that combines cutting-edge science with the creative minds of great artists and teachers to create a one-of-a-kind experience that's thrilling, educational and fun.
Set against the natural backdrop of rolling Kansas grasslands, the Field Station is just minutes outside Wichita, Kansas. Over 40 life-sized, realistic dinosaurs (including the 90-foot long Alamosaurus, among the largest animatronic dinosaurs ever made) come to life thanks to the brilliant engineering of the world's leading roboticists and the imagination of our artists. The park also includes a geodesic dome ropes course and miniature golf course, creating memorable and challenging activities for every member of the family.
The story of the dinosaurs is vividly presented on 14 acres of tall grasses, shady trees, winding trails and an outdoor amphitheater. Scientists from the Bighorn Basin Paleontological Institute have worked to ensure that the exhibition encompasses the latest theories and discoveries in the fields of paleontology, geology and environmental studies. Workshops, games and activities connect the story of the dinosaurs to our world today, giving new relevance to their lives and power to the tale of their extinction.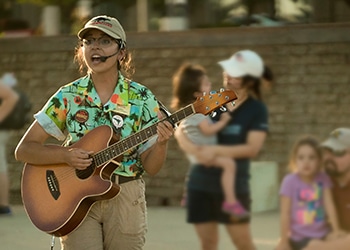 Dinosaur Dance Party
Join the Dinosaur Troubadour for a hilarious toe-tapping, feet-stompin' musical happening. Limbo, watusi and swing to "The Dimetrodon's Dance," a Permian dance craze that has everyone waving, weaving and laughing.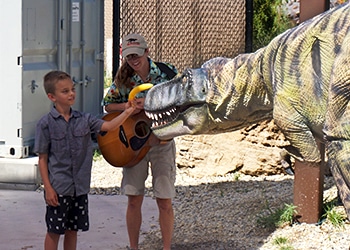 T-Rex Feeding Frenzy
Explore the dangerous world of the famous cretaceous meat eater! Meet the Mighty T-Rex and help our fearless Dinosaur Wrangler and the Dinosaur Troubadour use the Scientific Method to study the eating habits of everyone's favorite carnivore. A fun, musical show with audience participation.
Field Station Challenge
Come on down, you're the next contestant on the Field Station Challenge! You never know what surprises our Wranglers have in store when they reach into the box of dinosaur-themed puzzles, quizzes and games of chance.
Great Moments of Discovery Theater
You're the star of the show! Explore the amazing link between the birds of today and the dinosaurs of yesteryear. Meet some of the most famous scientists of all time and be witness to their greatest discoveries.
T-Rex Games
Teams face off in the Field Station's original family, Olympics-style competition perfect for all ages. Every event is a dinosaur-themed test of skill, knowledge, or sometimes, plain dumb luck.
Great Moments of Discovery Theater
Mesozoic Concentration
A fast-paced game of mixing and matching where everybody plays and everybody learns. What's it take to be a paleontologist? Kids uncover the secrets of the world's most successful dinosaur hunters and learn that most of the tools necessary can be found in our own garages, playrooms ad local libraries.
Paleontologists' Laboratory
Available May-August or by Appointment.
The perfect souvenir from your visit to the Field Station – three actual fossils from the age of the Dinosaurs! Scientific staff will help junior bone hunters dig for fossils, including dinosaur coprolite, and help identify their finds. Take home your Mesozoic discovery in a souvenir pouch.
*Extra charges apply.
Backyard Fossil Hunter
Kansas is famous for its place in the history of "bone hunting" and some of paleontology's most important discoveries happened right here in our own backyard. Learn about the remarkable dinosaur and fossil history of the Sunflower State and see actual Pteranodon and Mosasaur bones!
Fossil Dig Site
Giant dinosaur skeletons and real prehistoric fossils lurk just beneath the surface, waiting to be unearthed.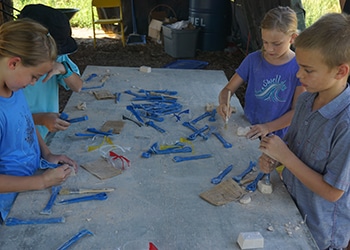 Paleontologists' Laboratory
Dinosorigami
Join one of the Field Station's Top Researchers and learn the art of paleo paper folding. Best of all, our origami artists get to take their creations home!
What Color Is Your Dinosaur?
Meet the world's first balloon twisting paleontologist and see not one, not two but five T-Rexes! There's no telling where our imaginations will take us as we explore the mystery of dinosaur colorization in the funny 15 minute show for our youngest visitors.
Paleontological Training
Paleontologists travel the world in search of dinosaur bones and there's no telling where their adventures will take them – from snow covered mountain tops to baking hot deserts. Join our expert team of trainers at the Challenge Dome and prepare for a science adventure of your own!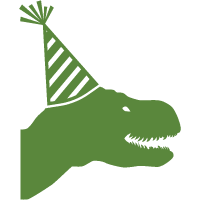 Birthday Parties & Group Expeditions
Bring your group into a Paleozoic world of mystery, learning and unforgettable thrills!
Conquer The Kansas Climb
Coming 2019
North America's only challenge concept that combines a ropes course with a geodesic dome!
There's Alway Something New At The Field Station!
Get New Shows & Park Updates Texted To Your Phone!
Proud Sponsors of
Field Station: Dinosaurs!




Contact Us
Note: all attractions may not be available on all days.
General Inquiry
855.833.3466
ksinfo@fieldstationdinosaurs.com
Questions and Ticket Sales
855.833.3466
ksinfo@fieldstationdinosaurs.com
Group Sales & Birthdays
855.833.3466
ksgroups@fieldstationdinosaurs.com
Purchase your tickets today for the adventure of a lifetime